Press Release
Cadimage Group recieves GRAPHISOFT's 'Sales Growth' award for the third year running.
Lisbon, PORTUGAL, April 22, 2015 – This week GRAPHISOFT Partners from across the world flocked to the city of Lisbon for the 2015 International Partner Conference (IPC).

Each year the GRAPHISOFT International Partner Conference (IPC) brings ArchiCAD sales partners from around the world to a single location where they have the opportunity to share ideas and experiences relating to the AEC industries. Attendees also get to discover the features of the upcoming version of ArchiCAD (due for release mid-2015), along with other software that extends the functionality of ArchiCAD (such as Artlantis and the BIMx app).
As always, this years' event was capped off with an Awards evening where a handful of partners are recognised for their achievements promoting and supporting the use of GRAPHISOFT design technology. This year we are proud to announce that Cadimage Group won the award for 'License Growth' award for the third year in a row.
Campbell Yule, Managing Director of Cadimage Group, was in Lisbon to receive the award, and was "extremely proud to achieve this award". Campbell explained that the award not only reflected the hard work of the Cadimage Group team, but also the boyant nature of the building industry in New Zealand.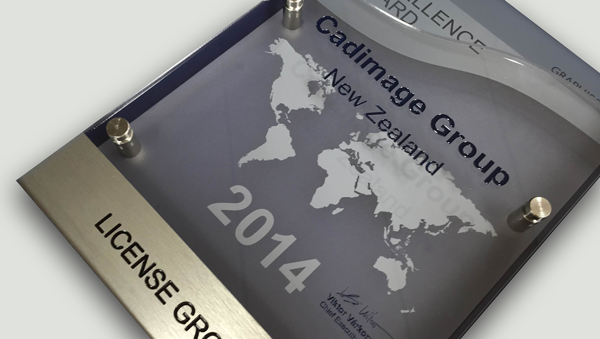 Last year, Cadimage Group was awarded GRAPHISOFT's prestigeous Distributor of the Year award for its sales growth as well as its' ongoing commitment to customer support and education.
Cadimage Group sells and supports GRAPHISOFT ArchiCAD throughout the New Zealand region. For more information about ArchiCAD, please contact Debbie Garrett at Cadimage Group via email debbie@cadimagegroup.com or visit www.archicad.co.nz
About Cadimage Group:
Cadimage Group distributes, develops and supports a range of design and performance-evaluating software for architects, engineers and construction companies that enhance design capability and reduce risk and cost. For additional information about Cadimage Group Limited, please visit cadimagegroup.com